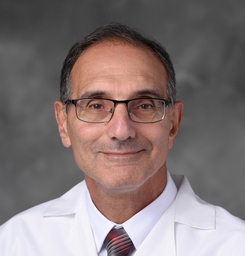 Steven Keteyian, Ph.D.
313-972-1920
313-972-1921 (fax)
Office Address
Henry Ford Hospital, Preventive Cardiology Unit, 6525 Second Ave., Detroit, MI 48202
Position Title
Adjunct Professor
Areas of Interest
Exercise physiology; preventive cardiology; heart failure; cardiac rehabilitation
Narrative Bio
Steven J. Keteyian is Program Director of Preventive Cardiology, Division of Cardiovascular Medicine, Department of Internal Medicine, Henry Ford Hospital, Detroit, Michigan, 1981 - Present. Also, Dr. Keteyian is Director of the Henry Ford Clinical Exercise Physiology Core Laboratory, a research unit that supports multi-center randomized clinical trials investigating new medical, surgical and device therapies for patients with cardiovascular disease.
Dr. Keteyian earned his B.S. from Grand Valley State College (1978), his M.A. from the University of Northern Colorado (1979), and his Ph.D. from Wayne State University (1989). Dr. Keteyian is also an adjunct Associate Professor, Department of Physiology, School of Medicine, Wayne State University, Detroit, Michigan and an adjunct Clinical Professor, Exercise Science Program, School of Health Sciences, Oakland University, Rochester, Michigan.
Dr. Keteyian is active in many professional organizations including the American College of Sports Medicine (Fellow), the American Heart Association and the American Association of Cardiovascular and Pulmonary Rehabilitation.
Dr. Keteyian's original research interests focus on the role of exercise testing and training in patients with chronic heart failure, with a special interest in skeletal muscle function and disease related morbidity and mortality. Dr. Keteyian serves as Co-chairperson of the Steering Committee for the NHLBI funded HF-ACTION (Heart Failure – A Controlled Trial Investigating Outcomes of Exercise Training) trial.
Dr. Keteyian is the author of more than 60 articles which have appeared in peer-reviewed scientific journals. He is co-author of four books: Fox's Physiological Basis for Exercise and Sport, 6th ed., Fundamentals of Exercise Physiology, 2nd ed., Cardiac Rehabilitation, and Clinical Exercise Physiology, 2nd Ed. He is past Editor-in-Chief of Clinical Exercise Physiology; past Associate Editor for Medicine and Science in Sports and Exercise; and a member of the editorial boards for the Journal of Cardiac Failure and Journal of Cardiopulmonary Rehabilitation.
Publications
 A complete list of Dr. Keteyian's publications can be found at PubMed-Keteyian
Education
B.S. from Grand Valley State College
M. A. from University of Northern Colorado
Ph.D., Wayne State University, Detroit
Category Information
Exercise physiology
preventive cardiology
heart failure
cardiac rehabilitation