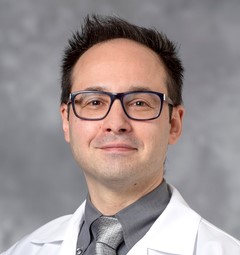 Emilio Mottillo, Ph.D.
Office Address
7089 ERB
2799 W. Grand Blvd.
Position Title
Assistant Scientist
Areas of Interest
Obesity, Diabetes, Fatty liver disease
Narrative Bio
Dr. Mottillo will consider new students for the 2020-21 academic year.
Research
The overall goal of our research program is to understand the molecular and cellular mechanisms that regulate metabolic homeostasis, with the long-term goal of translating basic research findings into therapies for human health.
Using novel methods to image fatty acid metabolism in real-time and proteomic and lipidomic techniques, we plan to investigate the mechanisms by which cells sense lipids and maintain lipid homeostasis.
A second major project will expand upon the novel biology of ABHD5 interactions with the PNPLA lipase family to investigate the role in fatty liver disease and diabetes.
 
Publications
A list of Dr. Mottillo's publications can be found at: https://www.ncbi.nlm.nih.gov/myncbi/browse/collection/50075447/?sort=date&direction=descending
Post Graduate Training
Post doctoral Fellow, McMaster University, Department of Medicine (2013-2016)
Post doctoral Fellow, Wayne State Universiy, Center for Molecular Medicine and Genetics (2016-2019)
Roger Davis Investigator Award for Transitional Faculty, Kern Lipid Conference, FASEB Travel Award, FASEB Lipid Droplets on the Move from Health to Disease
Future of Science Fund scholarship, Keystone Symposia Travel Award, Canadian Institutes of Health Research
Post-doctoral Fellowship Award, Canadian Diabetes Association-A prestigious fellowship award for research in the areas of diabetes
and obesity. Eleven fellowships were awarded in 2013.
Travel Award, Deuel Conference on Lipids
First Place Oral Presentation Award, Wayne State University
First Place Oral Presentation Award, Wayne State University
Division of Research Award, Wayne State University
Doctoral Research Award, Canadian Institutes of Health Research-This is a highly prestigious award from the government of Canada
given to doctoral trainees. Only four awards were given to students studying abroad that year.
Basic Research Presentation Award, Department of Psychiatry and Behavioral Neurosciences, Wayne State University, One award annually for best presentation.
Graduate Professional Scholarship, Wayne State University
Thomas C. Rumble Fellowship, Wayne State University, A Graduate award given to distinguished graduate students.
Graduate Research Assistantship, Wayne State University
Ontario Graduate Scholarship, University of Windsor-A merit-based scholarship awarded to distinguished graduate students.Postgraduate Tuition Scholarship, University of Windsor
Travel Scholarship Bursary, University of Windsor
Travel Scholarship Bursary, University of Windsor
Education
BSc. in Biological Sciences, University of Windsor (2001)
MSc. in Biological Sciences, University of Windsor (2003)
Ph.D. in Pathology, Wayne State University (2013)