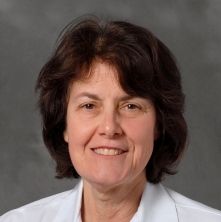 Margot LaPointe, Ph.D.
313-916-3076
313-916-1479 (fax)
Office Address
Henry Ford Hospital Hypertension & Vascular Research. 2799 W. Grand Blvd., Detroit, MI
Position Title
Professor & VP of Research
Joint Appointments
Vice President of Research-Henry Ford Hospital and Henry Ford Health System
Areas of Interest
Molecular signaling pathways leading to cardiac hypertrophy & cardiomyopathy
Narrative Bio
Research in the LaPointe laboratory uses a multi-disciplinary approach to investigate molecular signaling pathways leading to cardiac hypertrophy and cardiomyopathy. The laboratory performs in vitro experiments using both neonatal rat and adult mouse ventricular myocytes in culture to determine: 1) molecular regulation of the natriuretic peptide gene BNP; 2) how pro-inflammatory mediators regulate COX-2 and PGE2 synthases (mPGES1, 2 and 3);  and 3) the signaling pathways utilized by prostanoids such as PGE2 and other factors to effect their responses, including the pathways activated by the EP4 receptor. Cultured cardiac fibroblasts are also used to investigate the role of prostanoids in collagen formation and degradation. Methodologies employed in our laboratory include gene array analysis, quantitative RT-PCR, Western blot, immunohistochemistry, transfection, zymography and flow cytometry. 

Whole animal studies examine the role of PGE2 production and binding to its EP4 receptor in the development of cardiovascular disease. Experimental models include angiotensin II infusion to create high blood pressure and cardiac hypertrophy and myocardial infarction to induce remodeling. Cardiac function in these animals is assessed non-invasively by echocardiography. Presently we are using mPGES-1 KO and cardiac myocyte-specific EP4 knock out mice to investigate the role of PGE2 and its EP4 receptor in fibrosis, hypertophy and regulation of inflammatory processes in the heart.
Laboratory Web Site
http://www.henryfordhealth.org/physwebpage.cfm?id=40510&action=display&ref=434
Publications
 A list of Dr. LaPointe's publications can be found at PubMed-LaPointe
Post Graduate Training
Louisiana State University Medical Center, Department of Biochemistry and Molecular Biology
University of California at San Francisco, Metabolic Research Unit and Department of Medicine
University

 of New Orleans

 Decennial Honor Award (1972‑1976)

Ella V. Schwing English Award, Univ. of New Orleans (1973)

Kappa Kappa Iota Scholarship (highest GPA in College of Education, UNO, 1974)

Who's Who in American Colleges and Universities (1974‑1976)

Louisiana

 Land

 and Exploration Co. Graduate Scholarship in Biological Sciences (1978)

NIH Postdoctoral Fellowship (NRSA; 1985-1987)

Fellowship, NIH Neuroendocrine Training Grant to UCSF (1987-1988)

NIH Research Career Development Award (1994-1999)
Education
B.S. from the University of New Orleans (summa cum laude)
M.S. in Biology, University of New Orleans
Ph.D. in Zoology, University of North Carolina at Chapel Hill
Category Information
gene expression and cardiomyopathy

hypertension