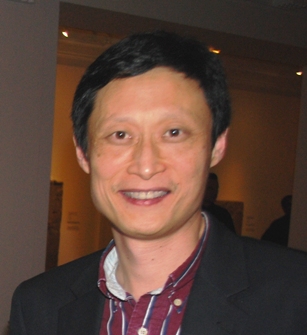 Xuequn Chen, Ph.D.
313-577-6058
313-577-5494 (fax)
Office Address
5215 Scott Hall
Position Title
Associate Professor
Areas of Interest
Cellular and Molecular Physiology
Narrative Bio
"I got my Ph.D. at the University of Michigan studying regulated exocytosis in the pancreas. Then I received postdoctoral training in functional proteomics at a National Proteomics Center in Michigan. My long term research goal is to understand how ER homeostasis is maintained in health and perturbed in metabolic diseases."
I will consider new MS students only.
Research
Pancreatic beta cell failure plays a central role in diabetes which affects over 285 million people worldwide. In beta cells, the endoplasmic reticulum (ER) is a central subcellular organelle to produce insulin. In health, beta cell ER homeostasis is maintained by the delicate balance between protein synthesis, folding, ER export and degradation. Disruption of ER homeostasis, by genetic and environmental factors, causes beta cell death and triggers diabetes. Our research focus is to understand, using systems biology approaches, how ER homeostasis is disrupted in diabetes. The ultimate goal is to identify new therapeutic targets to restore ER homeostasis and improve beta cell survival in diabetes. Currently, our lab is working on the following projects with funding support from NIH and other foundations:

Quantitative proteomics analysis of perturbed ER homeostasis in diabetes ER homeostasis is maintained by a complex proteostasis network. In spite of the essential role of beta cell ER in insulin biogenesis and diabetes, its protein composition was not systemically analyzed before. We conducted the first comprehensive proteomic analysis of the beta cell ER proteome. This highly informative dataset containing 1467 protein identifications was published in Proteomics May, 2015. We are currently studying how key ER proteins are altered in diabetes and then we will target these proteins for therapeutic interventions to restore ER homeostasis.
COPII dependent ER export of proinsulin in beta cells ER export was the least understood process in ER homeostasis. To fill this knowledge gap, I learned the in vitro COPII (coat protein complex II) vesicles reconstitution technique from Dr. Randy Schekman's lab. We applied this assay in beta cells and established the molecular mechanism by which proinsulin exits the ER. Furthermore, we found defective ER export could lead to beta cell apoptosis. Our original work was published in June, 2015 in Molecular Endocrinology. Based on this initial work, we are studying how COPII dependent ER export is disrupted in diabetes and how to rescue such a defect with therapeutic interventions.

Development of quantitative and targeted proteomics technologies Our lab has been actively developing and implementing iTRAQ-based and LC-SRM based quantitative proteomics technologies in our own projects as well as helping other investigators at SOM, WSU and other institutions.
Publications
Feng HZ, Chen X, Malek M, Jin JP. Slow recovery of fatigue resistance in mouse soleus muscle corresponding to decreased mitochondrial function and a compensatory increase in type I slow fibers. Am J Physiol Cell Physiol. 2015 Oct 7:ajpcell.00173.2015. PMID: 26447205
Kim H, Mendez R, Chen X, Fang D, Zhang K. Lysine Acetylation of CREBH Regulates Fasting-induced Hepatic Lipid Metabolism. Mol Cell Biol. 2015 Oct 5. pii: MCB.00665-15. PMID: 26438600
Ikonomov OC, Sbrissa D, Compton LM, Kumar R, Tisdale EJ, Chen X, Shisheva A. The protein complex of neurodegeneration-related phosphoinositide phosphatase Sac3 and ArPIKfyve binds the Lewy-body-associated Synphilin-1 preventing its aggregation. J Biol Chem. 2015 Sep 24. pii: jbc.M115.669929. [Epub ahead of print]PMID: 26405034
Fang J, Liu M, Zhang X, Sakamoto T, Taatjes DJ, Jena BP, Sun F, Woods J, Bryson T, Kowluru A, Zhang K, Chen X. COPII Dependent ER Export: a Critical Component of Insulin Biogenesis and Beta Cell ER Homeostasis. Mol Endocrinol. 2015 Jun 17:me20151012. PMID: 26083833
Lee JS, Wu Y, Schnepp P, Fang J, Zhang X, Karnovsky A, Woods J, Stemmer PM, Liu M, Zhang K, Chen X. Proteomics analysis of rough endoplasmic reticulum in pancreatic beta cells. Proteomics. 2015 May;15(9):1508-11. PMID: 25546123
Rajagopal A, Kulkarni S, Lewis KT, Chen X, Maarouf A, Kelly CV, Taatjes DJ, Jena BP. Proteome of the insulin-secreting Min6 cell porosome complex: Involvement of Hsp90 in its assembly and function. J Proteomics. 2015 Jan 30;114:83-92. PMID: 25464371
Hou X, Lewis KT, Wu Q, Wang S, Chen X, Flack A, Mao G, Taatjes DJ, Sun F, Jena BP. Proteome of the porosome complex in human airway epithelia: Interaction with the cystic fibrosis transmembrane conductance regulator (CFTR). J Proteomics. 2014 Jan 16;96:82-91. PMID: 24220302

 
A complete list of Dr. Chen's publications can be found at:  Chen PubMed
Education
Nankai

 University, Tianjin, China; B.S. in Biophysics, 1992

Nankai

 University, Tianjin, China; M.S. in Biophysics, 1995
University of Michigan, Ann Arbor, MI; Ph.D. in Physiology 2003
Category Information
 secretory pathways (SP):
understanding the molecular machinery of the SP governing intracellular protein homeostasis and trafficking
the regulation of the molecular machinery under different metabolic, physiological and pathological conditions