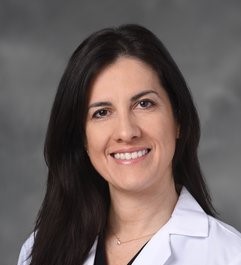 Mariela Mendez, Ph.D.
Office Address
7041 E&R Bluiding
2799 W. Grand Blvd.
 
Position Title
 Assistant Professor (FTA)
Narrative Bio
 I obtained a degree in Biochemistry at the National University of Cordoba, Argentina in Oct 1998. In Argentina, Biochemistry is a 6-year Program without a final thesis. In the US such degree is equivalent to a M.S. In Jan. 1999 I moved to the US, and volunteered as a research assistant in a basic science laboratory headed by Dr. Jerry Yee at the Division of Nephrology in Henry Ford Hospital. I understood at that time that the first step towards my goal of pursuing a scientific career required obtaining a PhD. degree
Ph.D Program: In July 2000, I entered a PhD program of the University of Buenos Aires, School of Medicine in conjunction with the Division of Hypertension and Vascular Research at Henry Ford Hospital. The thesis was conducted in the laboratory of Dr. Margot C. LaPointe (thesis advisor) while Dr. Norberto A. Terragno at the University of Buenos Aires in Argentina, served as the thesis co-advisor. This allowed me to pursue my Ph.D degree in the US while learning new techniques, publishing and obtaining training. In May 2005 I completed the requirements for a Ph.D. degree at the School of Medicine at the University ofBuenos Aires.
Laboratory Web Site
 https://www.henryford.com/physician-directory/m/mendez-mariela
Publications
 For a complete list of Dr. Mendez's publications, click here
Education
 2005 Ph.D. in Pharmacology, National University of Buenos Aires, School of Medicine