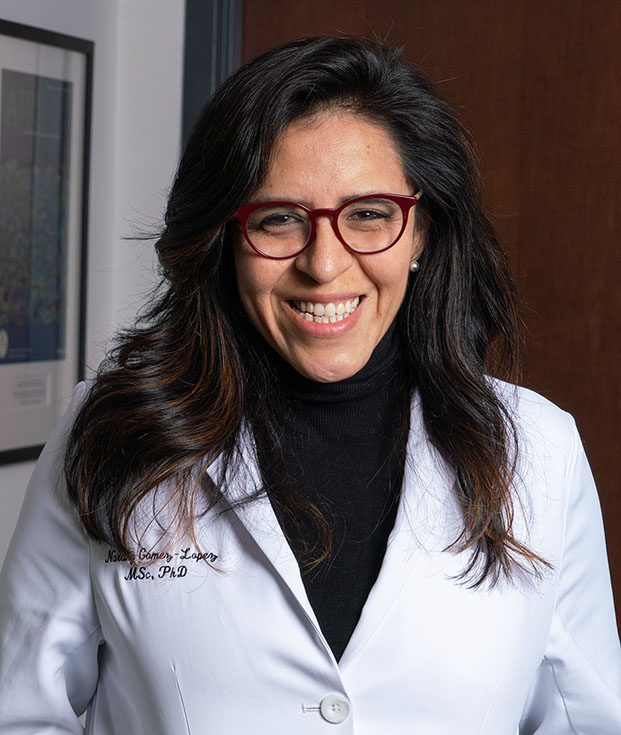 Nardhy Gomez-Lopez, Ph.D.
Office Address
Wayne State University School of Medicine
Laboratory: Scott Hall  3130
Office: Scott Hall 3236
Phone Number: 313-577-8904
540 E. Canfield 
Detroit, MI 48201 
Position Title
Associate Professor with Tenure, Obstetrics and Gynecology & Biochemistry, Microbiology and Immunology
 
Narrative Bio
Nardhy Gomez-Lopez, MSc, PhD is an Associate Professor in the Department of Obstetrics and Gynecology at the Wayne State University School of Medicine, Detroit, MI, USA. Dr. Gomez-Lopez obtained my master's and doctoral degrees at the National School of Biological Sciences and National Institute of Perinatology (Mexico City, MEX). Next, she completed two post-doctoral fellowships at the University of Alberta (Alberta, CA) and in the Robinson Institute at the University of Adelaide (Adelaide, AU), respectively.
I am accepting new MS and PhD students for the 2019-2020 academic year.
Laboratory Web Site
WSU Website: http://www.gomezlopezlab.med.wayne.edu/  
PRB Website: http://prb.med.wayne.edu/research-divisions/maternal-fetal-immunobiology/
Research
Dr. Gomez-Lopez's laboratory has focused on two major disciplines: cellular immunology and maternal-fetal biology. Specifically, the Gomez-Lopez laboratory focuses on the study of immunological pathways that lead to obstetrical disorders, with the goals of improving the understanding of the mechanisms of disease and developing methods for the early diagnosis, monitoring, treatment, and prevention of pregnancy complications, with an emphasis on preterm birth. The Gomez-Lopez laboratory is currently funded by the Wayne State University Perinatal Initiative in Maternal, Perinatal and Child Health and Eunice Kennedy Shriver National Institute of Child Health and Human Development, National Institutes of Health, US Department of Health and Human Services (NICHD/NIH/DHHS). Dr. Gomez-Lopez has trained graduate students (MSc, PhD), medical students, maternal-fetal medicine fellows and postdoctoral fellows.
Publications
For a complete list of publications, please visit Gomez-Lopez PubMed