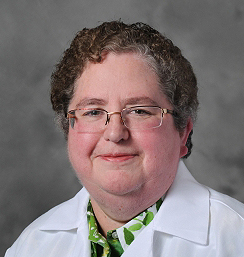 Pamela Harding, Ph.D.
Office Address
Henry Ford Hospital
E&R Bldg., 2799 West Grand Blvd.
Detroit, MI 48202
Position Title
Associate Professor
Areas of Interest
Cardiac pathophysiology; hypertension; vascular research
Narrative Bio
I am accepting new MS and PhD students for the 2020-21 academic year.
Research
Dr Harding is interested in the role of prostanoids in fibrosis and hypertrophy of the heart. In particular, the role of prostaglandin E2, its receptors and signaling pathways are examined. A cellular and molecular biology approach coupled with whole-animal physiology is used to elucidate the role of these molecules in regulation of the cell cycle, the signaling pathways and downstream transcriptional events that lead to hypertrophy and whether pharmacological inhibition or gene knockout of these pathways reduces the end-organ damage in response to hypertension or myocardial infarction. A number of state-of-the art techniques are employed in the laboratory including real time RT-PCR, immunohistochemistry and image analysis, flow cytometry, electrophoresis of proteins, DNA and RNA, gene array and cell culture.
Publications
A partial list of Dr. Harding's journal articles can be found at:  Pub Med-Harding
Post Graduate Training
Post-Doc, Renal Pathology, Eastern Virginia Medical School, Norfolk, VA (1997-1998)
Post-Doc, Hypertension Research, Henry Ford Hospital, Detroit, MI (1992-1997)

Hoescht Marion Roussel 'Excellence in Renal Research Award' from the American Physiological Society(1997)
Fellowship Award, National Kidney Foundation (MI Affiliate)(1996-97)
Fellowship Award, American Heart Association (MI Affiliate) (1995-96)
Education
Ph.D. in Renal Physiology, Keele University, Staffordshire, UK (1994)
B.S. in Pharmacology, NESCOT, Surrey, UK (1986)