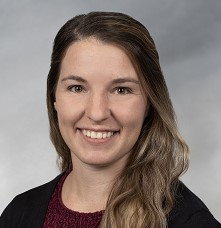 Kristin Richardson, Ph.D.
Position Title
Post-Doc Fellow; Wayne State University, Department of Pharmacology
Areas of Interest
Excitability and Plasticity of Octopaminergic Neurons During Chronic Exercise
Publications
Richardson K, Wessells R (2023) A novel panel of Drosophila TAFAZZIN mutants in distinct genetic backgrounds as a resource for therapeutic testing. PLoS ONE 18(9): e0286380. https://doi.org/10.1371/journal.pone.0286380
Damschroder D, Zapata-Pérez R, Richardson K, Vaz FM, Houtkooper RH, Wessells R. Stimulating the sir2-spargel axis rescues exercise capacity and mitochondrial respiration in a Drosophila model of Barth syndrome. Dis Model Mech. 2022 Oct 1;15(10):dmm049279. doi: 10.1242/dmm.049279. PMID: 36107830
Sujkowski A, Richardson K, Prifti MV, Wessells RJ, Todi SV. Endurance exercise ameliorates phenotypes in Drosophila models of spinocerebellar ataxias. Elife. 2022 Feb 16;11:e75389. doi: 10.7554/eLife.75389. PMID: 35170431
Damschroder D*, Richardson K*, Cobb T, Wessells R. The effects of genetic background on exercise performance in Drosophila. Fly (Austin). 2020 Oct 26:1-13. doi: 10.1080/19336934.2020.1835329. Online ahead of print. PMID: 33100141
Richardson K, Wessells RJ. Commentary: Octopamine Drives Endurance Exercise Adaptations if Drosophila. J Neurology & Neuromedicine 3(5):29-32 2018.
Education
2023 PhD in Physiology, Wayne State University
2016 B.A. in Biology, Edinboro University
Advisor
Robert Wessells, Ph.D.