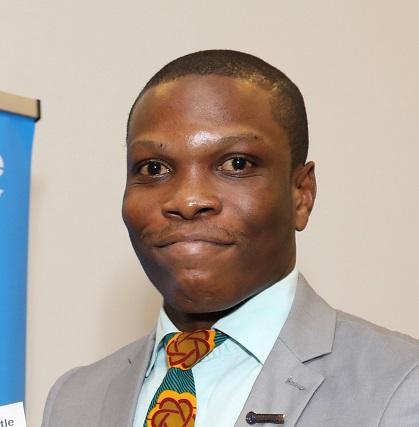 Nicholas Adzibolosu
Position Title
 Ph.D. Candidate & Co-Graduate Student Representative
Areas of Interest
 Reproductive Science
Narrative Bio
I was a general medical practitioner for about three years prior to my current enrolment onto the MSc
Medical Sciences program at the Newcastle University in the UK in September 2019. Even though I have
long been desirous of pursuing a career in the basic medical sciences (as I strongly believe that these
form the bedrock upon which the future of medicine will be built), my three-year clinical experience has
made my passion to pursue research and teaching in these sciences resolute. I encountered scores of
pregnant women with various complications of pregnancy; the devastating ones being those who
presented with severe pre-eclampsia or eclampsia. I still remember quite well the case of one woman
who had developed a concealed placental abruption as a sequela of severe pre-eclampsia, leading to
intrauterine fetal demise and subsequently disseminated intravascular coagulopathy. These experiences
and memories motivate me constantly to strive to understand the mechanisms underlying the adverse
cardiovascular events in pregnancy to enable me help improve on the existing treatment protocols and
preferably introduce better preventive tools.
Publications
Gogoi RP, Galoforo S, Fox A, Morris C, Ramos H, Gogoi VK, Chehade H, Adzibolosu NK, Shi C, Zhang J, Tedja R, Morris R, Alvero AB, Mor G. A Novel Role of Connective Tissue Growth Factor in the Regulation of the Epithelial Phenotype. Cancers (Basel). 2023 Oct 2;15(19):4834. doi: 10.3390/cancers15194834. PMID: 37835529
Adzibolosu N, Alvero AB, Ali-Fehmi R, Gogoi R, Corey L, Tedja R, Chehade H, Gogoi V, Morris R, Anderson M, Vitko J, Lam C, Craig DB, Draghici S, Rutherford T, Mor G. Immunological modifications following chemotherapy are associated with delayed recurrence of ovarian cancer. Front. Immunol., 26 June 2023, Volume 14 – 2023, doi.org/10.3389/fimmu.2023.1204148
Maxwell A, Adzibolosu N, Hu A, Stemmer PM, Ruden DM, Petriello MC, Sadagurski M, Debarba LK, Koshko L, Ramadoss J, Nguyen AT, Richards D, Liao A, Mor G, Ding J. Intrinsic sexual dimorphism in the placenta determines the differential response to benzene exposure. iScience 26, 106287, April 21, 2023 doi.org/10.1016/j.isci.2023.106287
Tedja R, Alvero AB, Fox A, Cardenas C, Pitruzzello M, Chehade H, Bawa T, Adzibolosu N, Gogoi R, Mor G. Generation of Stable Epithelial-Mesenchymal Hybrid Cancer Cells with Tumorigenic Potential. Cancers (Basel). 2023 Jan 22;15(3):684. doi: 10.3390/cancers15030684. PMID: 36765641
Chehade H, Purandare N, Fox A, Adzibolosu N, Jayee S, Singh A, Tedja R, Gogoi R, Aras S, Grossman LI, Mor G, Alvero AB. MNRR1 is a driver of ovarian cancer progression. Transl Oncol. 2023 Jan 13;29:101623. doi: 10.1016/j.tranon.2023.101623. PMID: 36641875
Chehade H, Tedja R, Ramos H, Bawa TS, Adzibolosu N, Gogoi R, Mor G, Alvero AB. Regulatory Role of the Adipose Microenvironment on Ovarian Cancer Progression. Cancers (Basel). 2022 May 1;14(9):2267. doi: 10.3390/cancers14092267. PMID: 35565396 Free PMC article. Review.
Ding J, Maxwell A, Adzibolosu N, Hu A, You Y, Liao A, Mor G. Mechanisms of immune regulation by the placenta: Role of type I interferon and interferon-stimulated genes signaling during pregnancy. Immunol Rev. 2022 Jul;308(1):9-24. doi: 10.1111/imr.13077. PMID: 35306673
Education
2020 Newcastle University - MS in Medical Science
2016 Kwame Nkruham University - MBBS
2013 Kwane Nkrumah University - B.Sc.
Advisor
Drs. Mor and Draghici